Project Manager john on 12/2/2012 to
DIMMABLE TINT!!!!!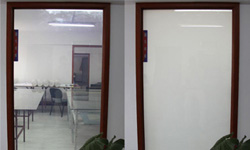 Dimmable Tint
can be manually or automatically "tuned" to precisely control the amount of light, glare and heat passing through a window. While glass is a favored product for use in building facades; glare, solar heat gain and UV exposure are problematic and can often make the use of glass impractical resulting in the need to invest in expensive solar shading devices. Glass facades using control technology reduce the need for air conditioning during the summer months and heating during winter.
Switchable smart window film is one of the latest technological breakthroughs, enabling glass to be instantly transformed from a clear state to an opaque state, by the flicking of a switch, providing immediate privacy and security, when required. The latest generation of switchable smart window film provides a simple, affordable alternative to other 'intelligent glass' solutions.
The switchable smart window film has a self adhesive layer, on one side of the film, which makes it very easy to apply to new glass or indeed retro-fitted to existing glazed areas.
Once the smart window film is installed, the window film technology requires a power supply and consists of a simple on-off mode, switching from frosted (translucent), in off mode, to clear (transparent), in on mode. It does this by passing an electrical current through an LCD interlayer, in the window film, and acts as an 'electronic blind' providing control over the privacy and security in areas with glass windows and glazed partitions.
Principle
When the power supply is switched on, the rod shaped suspended particle molecules align, light passes through and the SPD SmartGlass panel clears. SPD SmartGlass protect from damaging UV when on or off.
When the power supply is switched off the rod shaped suspended particle molecules are randomly oriented blocking light and the SPD SmartGlass becomes dark blocking up to 99.4% of light.
- See more at: http://www.smartglassinternational.com/products-services/spd-smartglass-solar-control/#sthash.morkZVlu.dpuf