Project Manager Project Manager Smart Tint Engineering team on 2/27/2019 to
Commercial
Smart Cling Self Adhesive Used On The Grammys 2019 Steps
This internat
ional song contest stage was created for Eurovision featuring Smart Tint.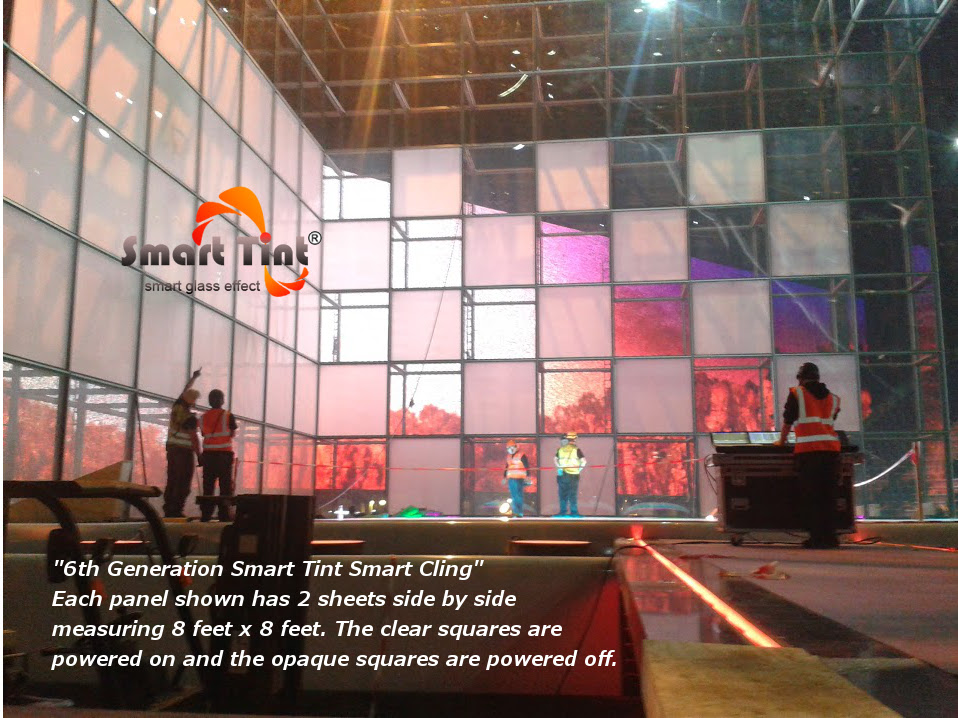 100% of the Smart Tint material on this stage is genuine and is being used as an interactive projection screen that goes instantly clear when energized and opaque when powered off and dimmable to provide the most amazing visual effect in the industry! "6th Generation Smart Cling Self Adhesive Smart Tint®"
This international song contest stage was created for Eurovision and is being hosted by Copenhagen Denmark.
Eurovision Song Contest is the biggest music competition in the world.
Go to Eurovision.tv to watch all the songs performed on this magnificent stage
Here is a video of the panel pre-testing. Each Polycarbonate plexi-glass panel shown here has 2 sheets of our 6th Generation Smart Cling Self Adhesive Smart Tint installed sided by side with all of the wiring exiting the middle of the short side . Notice the seems are almost non-existent because of the precise manufacturing process and laser straight edges.
Smart Tint Smart Cling Self Adhesive was used during Microsoft's E3 2019 press conference where they featured their new game Gears Of War 5.
Smart Tint completed Reebok's display boxes.
Titletown Tech is a one of a kind partnership between the Green Bay Packers and Microsoft Corp. aimed at boosting economic expansion by bringing world-class digital innovations and expertise to Greater Green Bay.
Smart Tint was able to work with Titletown Tech to provide a complete privacy option for their facility. From initial concept phase to completion, Smart Tint was able to provide extensive customer care and support during each phase of this project.
Design Phase
-
Sample kits, brochures, and specification details were sent to the Designers, Architects, & End Client. A conference call was scheduled with all parties involved where we discussed all the projects logistics.
Testing Phase
-
Smart Tint, Inc put together a custom mock up project for demonstration purposes. This demonstration helped receive the approval for the technology and also helped with color choice. Photo/Video of the mock up can be seen below.
Logistics Phase
-
Smart Tint, Inc worked with the Architects, Installers, & Electricians to provide a spreadsheet detailing each zone the Smart Tint will operate in. We then put together a grid detailing each panel, zone, and serial number. Samples of the plans can be seen below.
Installation Phase
-
Smart Tint, Inc confirmed final measurements and wire locations with the Installation team and electricians. We shipped out the project in zones for ease of Installation. The power control units were stored all together in one area. Photos of the Installation process can be seen below.
Finished Project
-
Smart Tint, Inc received photo/video of this project in it's on/off state and stand behind this project with an Industry Leading 5 Year Warranty.
For more photo/video of recently completed projects please visit our Instagram library https://www.instagram.com/smarttint/
New York Auto Show 2015 - Jacob Javits Center NYC
Cadillac utilizes Smart Tint Technology. The panels shown below are Smart Cling Self Adhesive White mounted on Plexi Glass. They were then illuminated with led lights transforming the color seamlessly providing the high tech edge Cadillac was looking for.