Project Manager Project Manager Smart Tint Engineering teem on 1/16/2013 to
Automotive
Please note: Check all material prior to installation for any defects.
Test each piece of material easily by powering on for clear
and powered off for opaque.
All or any physical defects or damage are to be reported prior to installation
and removal of the protective coating that is on both sides of the material.
SMART TINT® INSTALLATION GUIDE
Recommended Supplies
-Do NOT use water or any other liquids for installation other than for cleaning beforehand. Installation surface must be clean and dry.

We recommend the outer dimensions of the film be 1/8" shorter than the glass around all edges when retrofitting on an existing glass surface with a border or frame. This will allow the technology to sit flush on the glass providing the best performance and avoid any unnecessary trimming in the field. This will also allow tolerance for your wire management to control the film at the electrical connections. Any visible gaps around the edges can be sealed with the recommended acid free neutral cure silicone only for a finished product. For frame less glass systems that will have a but glazed edges you can measure from beveled edge to beveled edge. After the film is installed you can put a painters tape line encapsulating the edges of the film and fill the gap with the recommended acid free neutral cure silicone only. This will seal the technology in place and protect for years to come. For new glass installations with this technology you can use the above listed method or install on the glass prior to the glass installation and hide all wire transitions in the glazing system trim or in the cavity of the stops that hold the glass in place. We understand that every order and application is custom so we provide engineering time to discuss these logistics prior to manufacturing and answer any questions that you may have.

The electrical contact strip and leads should NEVER come into contact with any metal frame, trim, or surrounding objects. The finished trim should be nonconductive. Always ensure the completed project is trimmed with nonconductive materials and that all exposed wires, leads, etc. are covered sufficiently to eliminate the possibility of electrical shock or fire. We are not responsible for improper installations and highly recommend professional installation.
A Clean Working Environment
Handle Smart Tint Carefully
Adequate Lighting
Dry Installation
Dry Installation Instructions
Step 1:
Unroll Smart Tint® Smart Film® from the box and lay the film flat and wipe down both sides of the release liner with isopropyl alcohol to remove any debris, dirt and oil.
Step 2:
Scrape and clean glass. Make sure the glass is 100% free of debris, dirt and oil.
Step 3:
Test Film before installing technology on the glass.
Step 4:
Your Smart Tint® power supply can hardwired or plugged into a standard outlet.
Step 5:
Before installation you must measure the air particulates in the room. We do offer an air particulate meter to make sure the dust levels are low during installation. Should not be higher than PM2.5.
Step 6:
Handling and installing Smart Tint® Smart Film® is recommended to have 3 technicians.
Step 7:
Install Smart Tint® Smart Film® with provided squeegee.
Step 8:
Connect electrical connections.
Step 9:
Use silicone provided by Smart Tint
®
to seal in edges of material to prevent damage of the material caused from moisture, dirt, debris, etc...
Smart Tint® Smart Film® powered off.
Smart Tint® Smart Film® powered on.
Smart Tint® Smart Film® utilized as a projection screen.
Installation Tolerance
Notification
Don't use water or any other chemicals to wash, install or touching the edges of the film.

The Smart film should be 2 – 3 mm shorter than the glass to avoid a direct contact with the frame.
Strictly follow the wiring connection guide we offer before testing the film.

Strictly use the silicone provided by Smart Tint ONLY

to avoid the delamination of the edges. We offer it in custom colors including CLEAR, White, Grey, Black, Aluminum. If you use the wrong silicone you will damage the film.
INSTALLATION VIDEOS
"How Smart Tint is manufactured"
Smart Tint is available in 2 installation types.
Smart Cling Self Adhesive and NON Adhesive
Upon deposit payment confirmation we will provide shop drawings of your material order
for you to confirm wiring locations and final measurements for
trimming
.
Normal manufacturing time is 24-48 hours. After manufacturing is complete all material is quality control tested for 24 hours.
Upon quality control approval your package will ship and we will provide a tracking number.
We do offer expedited services and can overnight your order if need be.
Type 1:
Smart Cling Self Adhesive
The installation video below is a SmartCling

™

Self Adhesive install demo
We include a test piece of material with every order for practice!
DO NOT HANDLE THE MATERIAL BY THE WIRING. IF CONNECTION IS BROKEN THE MATERIAL WILL NOT FUNCTION.
THERE ARE NO WARRANTIES ON ELECTRICAL CONNECTIONS. CONTACT AN ELECTRICIAN FOR ALL WIRING CONCERNS.
Please be sure to accommodate for where the wiring is attached to the film to prevent any post installation damage.
The electrical wires that attach to the film are a delicate connection and must be protected. All orders are custom so we recommend
a minimum 1/4" tolerance for the wiring connection point.
While installing Smart Tint, a dry install is recommended.
DO NOT USE WATER or any other liquid slip aids.
Prior to Installaion, you must clean the glass surface to remove all oil and debree. Please make sure that the installation area is free of debris both air borne such as animal hair, dust, oil and any potential contaminants. Apply tint with the provided installation tool and use provided micro fiber cloth to clean , making sure that the surface is 100% dry. Do not remove protective layer on finish side until the project is complete.
Please Note: It is strongly recommended to install an acid free neutral cure silicone around the edges of your Smart Cling self adhesive film to seal from moisture. If you decide to seal the edges with a gasket or caulking you must use a LOW VOC - ACID FREE - NON TOXIC product only. Please research your sealing options and apply to a test area first , allow to dry and operate for 48-96 hours prior to completing. We recommend you request a functioning sample piece with your order for this testing purpose.

****************************************

Type 2:

Non-Adhesive
Mechanical
The installation video below is a
Non-Adhesive
Mechanical
install demo
(This is designed for a mechanical install using a clear 3m VHB double sided tape)
For BEST PERFORMANCE install on smooth glass only please follow these quick tips:
- DO NOT store material in shipping container or drum for more than 14 days.

-Provide a clean and dust free work environment
-Confirm that mounting surface is oil and residue free prior to installation.
-Clean the surface you are applying the material to with 99% isopropyl alcohol ONLY or greater.
-Remove the protective coating from the contact side of the material prior to installation of the Non-Adhesive film and clean the actual Smart Tint and the glass with 99% isopropyl alcohol only.
-Inspect the Smart Cling Self adhesive surface of the film for any burs or raised edges on the side that will be attached to the glass only and remove if necessary.

-Acclimate the Smart Cling Self Adhesive material or the NON-Adhesive product to room temperature before installation and wait 24-48 hours after installation is completed for best results.
(This will allow for the Smart Cling Self Adhesive material to out gas and adhere to the surface) -
-We provide a ready to install piece of material that is pre cut to the measurements or template you provide us. Double check your measurements and templates. All cuts are final.
-Dry fit all material prior to installation.
-Remove the protective film that is on the finish side after the film has been installed.
Here are a few installation tips.
1.
Install a practice piece with your order first and see how the overall appearance is enhanced after post installation acclimation to room temperature has passed. Smart Cling Self Adhesive Smart Tint requires 24-48 hours after installation to acclimate to the surface it has been installed on. It is best to lay material flat for at least 6-12 hours prior to installation in the actual room temperature environment between 55 - 95 degrees Fahrenheit .
2.
Be sure that the installation environment is free of Debris, Oils and Dust Particles. Wipe down the glass with the provided micro fiber cloth and a 99% plus mixture of isopropyl alcohol. For mechanical NON-Adhseive installations be sure to also wipe down the contact area of the actual Smart Tint .
3.
We provide an installation tool however you can also use a rubber roller to assist in the installation. Every installation is unique. To minimize imperfections please use patience and make sure there are no imperfections in the glass such as pits or scratches prior to installing with this technique. Where latex gloves to eliminate finger print oils from touching the glass and any other foreign darbree.
Step 1 - Package opening and inspection
Step 2 - Drum Inspection and Factory Seal Removal
Step 3 - unpack and inspect package contents
Step 4 - Test Operation of Material - prior to installation-Desktop
Step 5 - Measure and Trim to fit if needed
(It is recommended that your measurements are accurate to avoid trimming if possible )
Warning do not trim , cut or install material will powered on.
Step 6: How to install smart cling self adhesive smart tint.
Step 7 - Remove protective film on finish side
Allow the
SmartCling™ Self Adhesive material
24 hours prior to the installation to acclimate to room temperature laying in a flat position. You can work with SmartCling™ Self Adhesive for up to 96 hours after the protective coating has been removed. SmartCling™ Self Adhesive will adhere to the glass and will show its best performance after the 48 hour post installation curing time has passed. Install the practice piece first and see how the overall appearance is enhanced after post installation acclimation to room temperature has passed.
For best performance leave Smart Tint in its powered off state during this process.
Here is an example of a NON-Adhesive Mechanical install using clear 3m VHB tape to on the perimeter of the glass.
This custom cut palladium window was retro fit with Non-Adhesive Smart Tint and EASILY installed using 3m double sided clear VHB tape on the perimeter of the glass. The customer sent us a template and we cut to match prewired and shipped a ready to install kit. When measuring material be sure to accommodate for an 1/8" (3mm) gap around the perimeter of the window to allow for installation They hired a local tint contractor to install and an electrician to connect the wires to a wall mounted switch.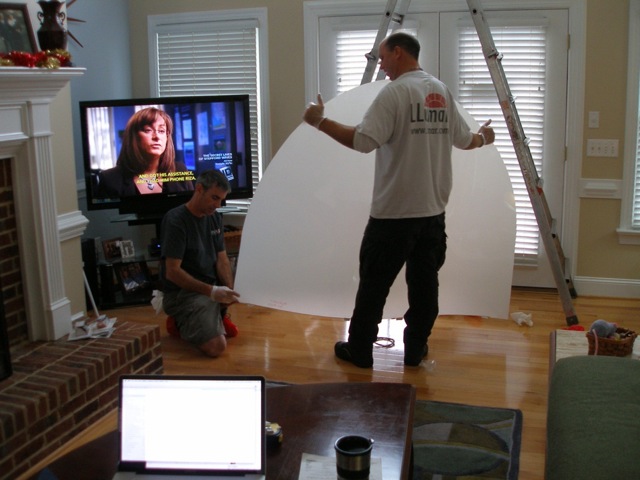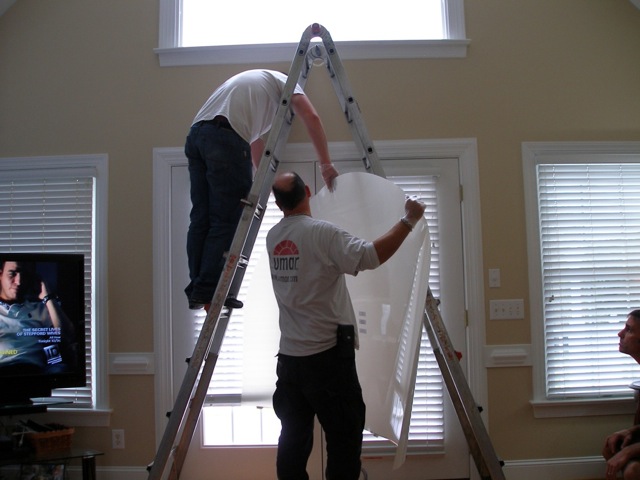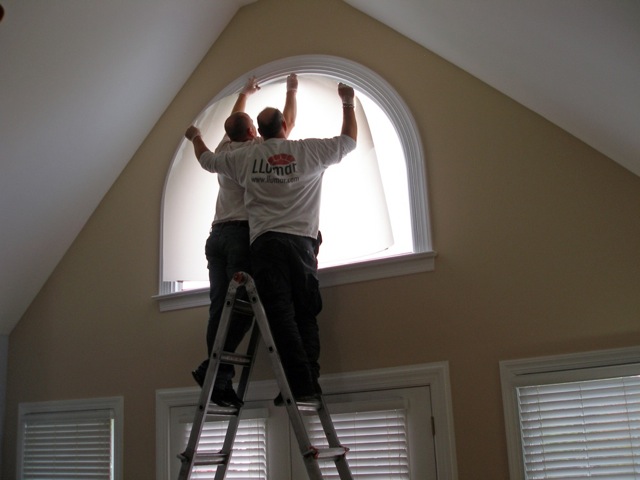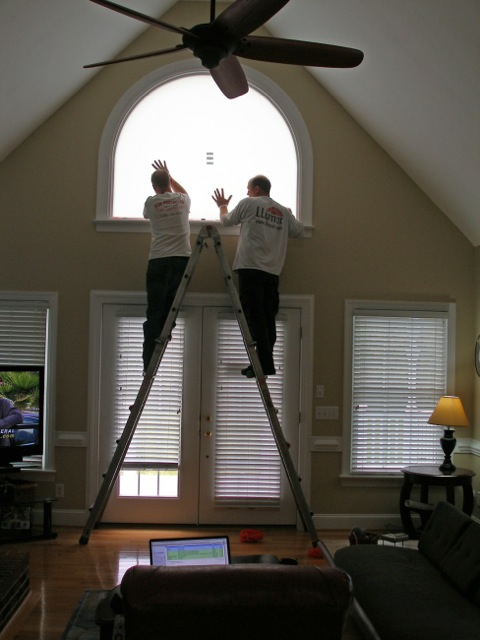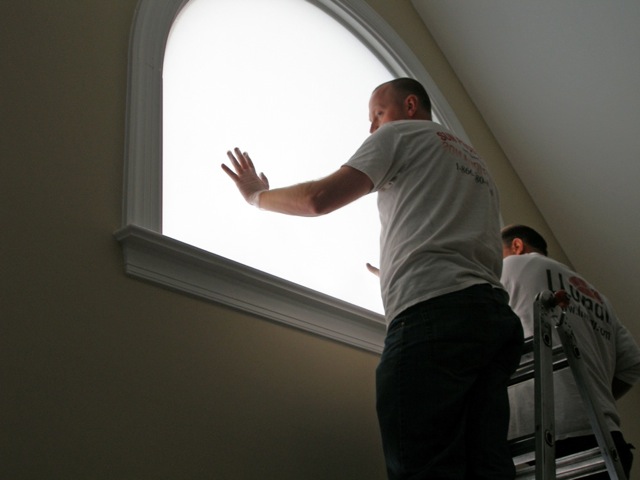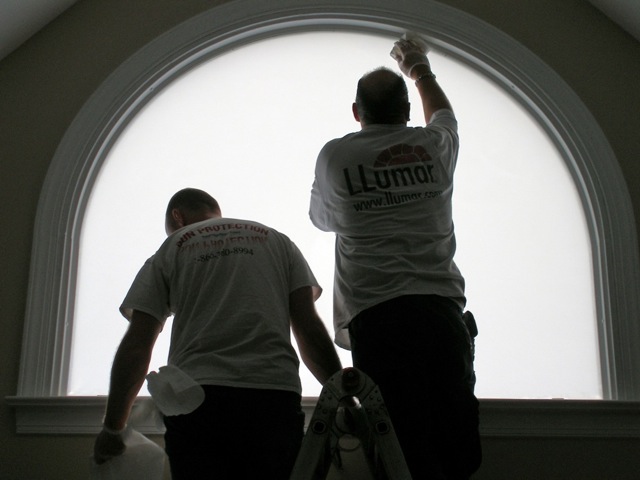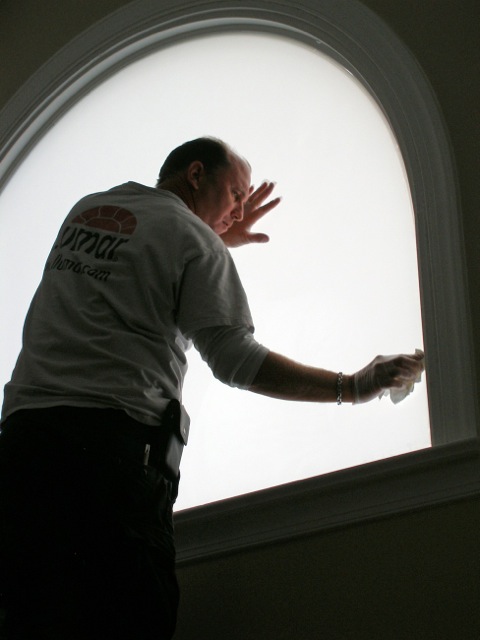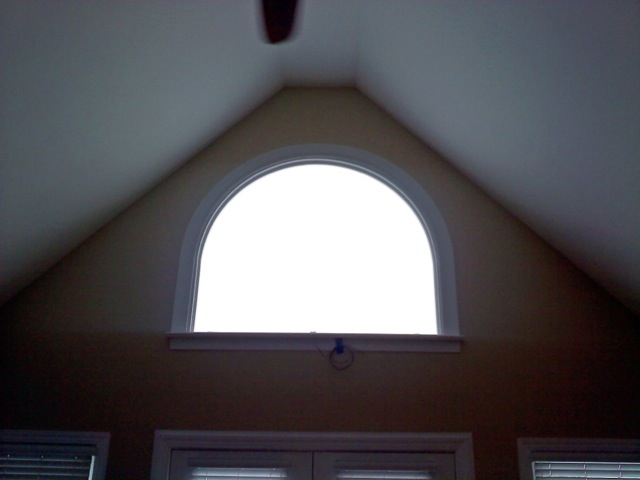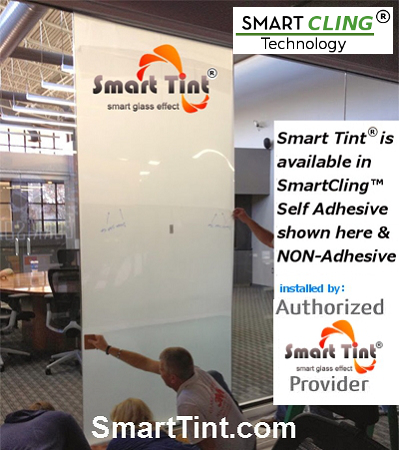 How to install Self Adhesive Smart Cling on a car window
Apply to Glass with provided Squeegee - Dry Install Self adhesive Backing
Smart Tint

®
Film can be Wi-Fi enabled instantly switching windows from opaque to clear in less than a second. You can turn
Smart Tint

®
Film "on" for see-through windows and "off" for private opaque windows from any smart phone or internet web browser with no software required using our hardware network device. Great for controlling the temperature of your summer home via sunlight or setting a room's privacy instantly.
Smart Tint

®
is easy to install and affordable, and doubles as a projection screen , digital blind , uv blocker , temperature control , privacy shield, limitless applications...
Smart Tint™ Film is also Wi-Fi enabled and simple to use. Our Smart Tint™ Film can be controlled from anywhere with an internet connection with the touch of a button.
Smart Tint™is completely customizable. The SMART CLING™ self adhesive back allows you to simply peel and stick the film on any smooth glass surface. We also offer a mechanical non-adhesive Smart Tint that can be installed using a trim kit or simple double sided clear adhesive tape that is provided with every purchase .
Once Smart Tint™ Film has been affixed, connect the thin wires to a power source and you are ready to operate. We strategically place the wires anywhere on the material the best fits your application. We custom wire every piece to your specifications. The wire connections are small and can be easily hidden.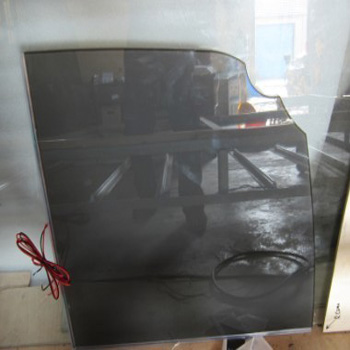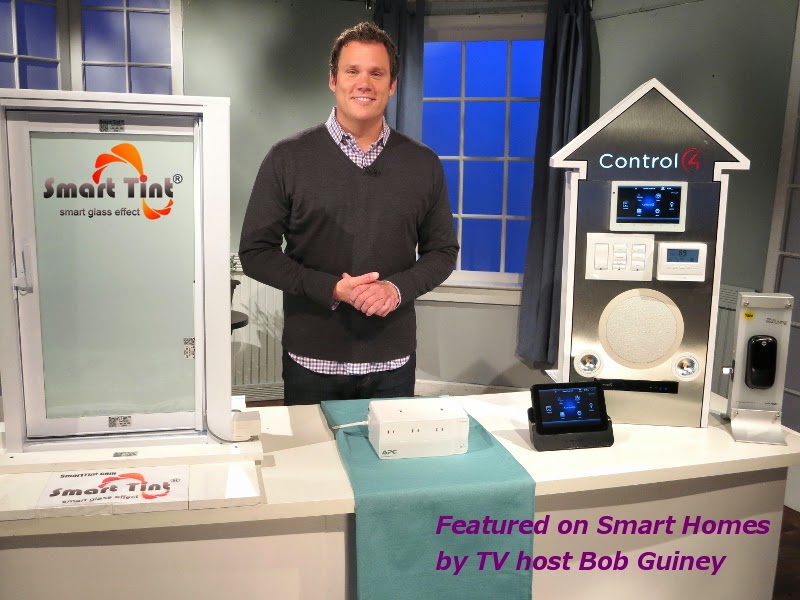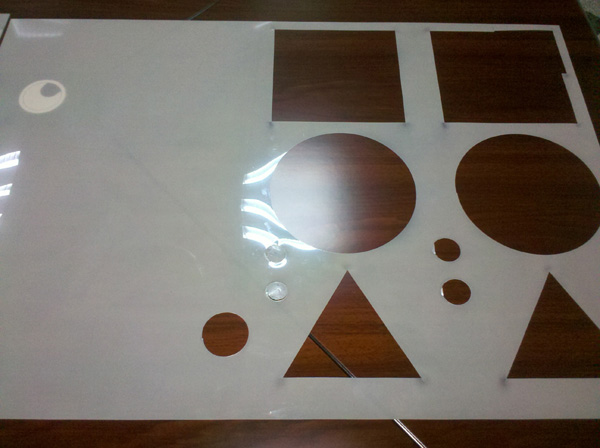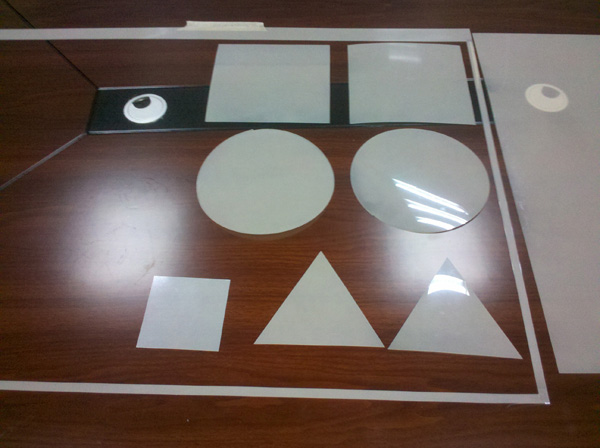 Smart Tint doubles as the perfect Rear Projection Smart Screen or High Tech Window Treatment.