Project Manager Administrator on 11/6/2013 to
Smart Tint offers Smart Cling ® Technology on all of its Self Adhesive products!


A clear leap above the traditional self adhesives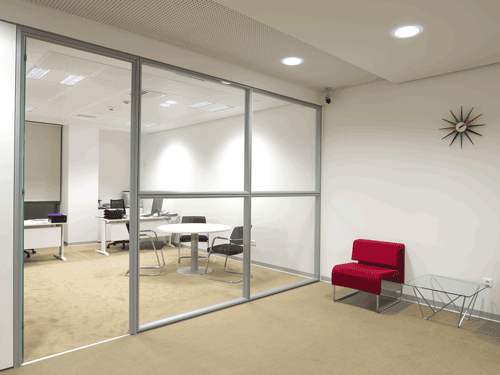 Smart Tint Offers:
Smart Cling ® Technology
1. Our Smart Cling ® switchable privacy Smart film does not trap in heat or moisture like the traditional self adhesives and glue down applications. This will protect your glass from solar fracturing or cracking.
2. Smart Cling ® makes installation easy allowing the use of 99% isopropyl alcohol as a slip agent. Simply spray glass , attach film and squeegee out excess alcohol.
3. Smart Cling ® out gases on its own allowing air bubbles to escape.
4. Smart Cling ® DOES NOT yellow or crack over time.
5. Smart Cling ® DOES NOT create burn holes in your material like traditional self adhesives or glue down applications.
6. Smart Cling ® DOES NOT void factory glass warranties
7. Smart Cling ® DOES NOT haze the final installation and provides the best clarity industry wide.
8.Smart Cling ® Smart Tint can be removed and reinstalled or reallocated.
9. Smart Cling ® Technology is available on all of our self adhesive products. We offer 7 color switchable glass pdlc electronically controlled films in all.
10.

We offer a warranty on all Smart Cling ® Smart Tint products on a per project basis.
Contact us
for details.
Highest clarity in the industry at 98%

Most transparent switchable privacy film available

UV protection at 98% +/1

42% Solar Heat Reduction

Outstanding Tech Support

Multiple pieces can be configured to work together.

Light Control with variable solutions.

Available in Colors: White, Grey, Black, Blue, Green, Yellow, and Pink



Plug and Play Privacy on Demand

Smart Tint turns your traditional glass into switchable glass aka smart glass. The two words are interchangeable and are used to describe a certain type of glass that uses PDLC technology to control the amount of light that gets through it. PDLC film, the thing that is used to control the glass, is composed of PET film, ITO film, polymer and liquid crystal molecules.

When Smart Tint PDLC film has electricity applied to it, liquid crystals inside of the switchable glass technology align and allows light to pass through. When electricity is cut off from the PDLC film, liquid crystals are positioned randomly and block out light.
You can mechanically install Smart Tint on glass or plexiglass with our Non-Adhesive Smart Tint laminating pdlc film.
or
You can install using our proprietary
Smart Cling Technology
.
Unlike traditional self adhesives or glue down products Smart Cling
®
is the only Switchable Smart Film that can be easily installed providing the best clarity in the industry.
Non-Adhesive SmartTint
Non-adhesive SmartTint is pretty much the same thing as the self-adhesive SmartTint. The main differences are that the non-adhesive version requires a special type of tape to be installed and it is slightly thicker. Non-adhesive, mechanical SmartTint comes with smart tape that is used to install the SmartTint technology onto a piece of glass.
With the self-adhesive SmartTint, you can just slap it on glass. With the non-adhesive version you sort of have to lay things out before you proceed. Non-adhesive is mostly meant for projection screens, electronic blinds, white boards, and high tech window treatments. Like the self-adhesive version of SmartTint, non-adhesive SmartTint comes in all sorts of colors.
Smartition
This is a smart glass product that's pretty unique. Smartitions are smart glass partitions that can be put to use right after they get taken out of the box. If you need privacy at the office, then these are perfect.
Smartitions come with clamps that you install on your desk. After you've installed the clamps, you just slide the partition in and plug it into an outlet. After the smartition has power, you can get instant privacy with the press of a button. Pretty awesome.
Enclosures / Smart Cubes
If you know what a normal display case or what an enclosure is, then you can probably guess what this product is. It's an enclosure that takes advantage of smart glass to provide you with a way to display things and hide them when you need to. Smart Cubes / Smart Enclosures do not have a listed price. Smart Enclosures are made by request and you have to request a quote to get one. So, yeah.
Conclusion
All of the products come with the standard things you would expect to come with smart glass. You get a button that allows you to control the transparency of the glass, and everything else needed to use a piece of SmartTint. With that being said, if you want dimmable features and things like that then it's going to cost extra. Optional Power Control Units, dimmer systems, and mobile power converters are all something that you'll have to add to your order if you want them.
Overall though, SmartTint offers a great selection of products and you should check them out when you get the chance. Sadly, they don't offer full panes of smart glass. Still, they do offer the products you need to turn an existing piece of glass into smart glass. If you would like to check out all the things mentioned above, then head on over to SmartTint.com.
Smart Tint is available in 2 installation types.
Type 1:

Smart Cling Self Adhesive
(This is a recommended dry install with a peel away Smart Cling backing. However you can use a
95-99% Isopropyl Alcohol mixture or better as an approved mounting solution for easy installation. Spray on glass and squeegee out excess with the provided installation tool.)
Type 2:

Non-Adhesive
(This is designed for a mechanical install using a clear 3m VHB double sided tape)
For BEST PERFORMANCE please follow these quick tips:


The installation video below is a SmartCling

™

Self Adhesive install demo

for the NON-Adhesive demo video scroll down
Allow the
SmartCling™ Self Adhesive material
24 hours prior to the installation to acclimate to room temperature laying in a flat position. You can work with SmartCling™ Self Adhesive for up to 96 hours after the protective coating has been removed. SmartCling™ Self Adhesive will adhere to the glass and will show its best performance after the 48 hour post installation curing time has passed. Install the practice piece first and see how the overall appearance is enhanced after post installation acclimation to room temperature has passed.
For best performance leave Smart Tint in its powered on state during this process.
Step 1 - Package opening and inspection
Step 2 - Drum Inspection and Factory Seal Removal
Step 3 - Unpack and inspect package contents
Step 4 - Test Operation of Material - prior to installation-Desktop
Step 5 - Measure and Trim to fit if needed
(It is recommended that your measurements are accurate to avoid trimming if possible )
Warning do not trim , cut or install material will powered on.
Step 6: How to install smart cling self adhesive smart tint.
Step 7 - Remove protective film on finish side
************************************************************
NON-ADHESIVE-SMART-FILM-INSTALLATION
Here is an example of a NON-Adhesive Mechanical install using clear 3m VHB tape to on the perimeter of the glass.
This custom cut palladium window was retro fit with Non-Adhesive Smart Tint and EASILY installed using 3m double sided clear tape on the perimeter of the glass. The customer sent us a template and we cut to match prewired and shipped a ready to install kit. When measuring material be sure to accommodate for an 1/8" (3mm) gap around the perimeter of the window to allow for installation They hired a local tint contractor to install and an electrician to connect the wires to a wall mounted switch.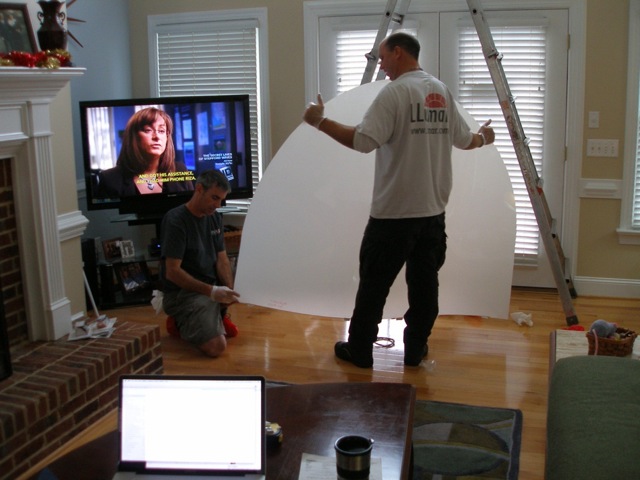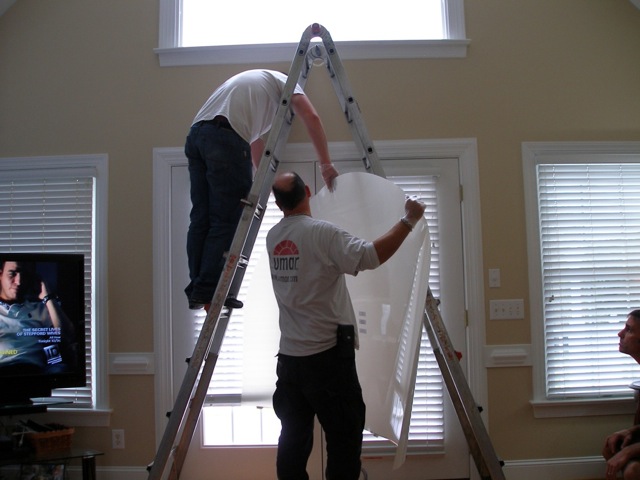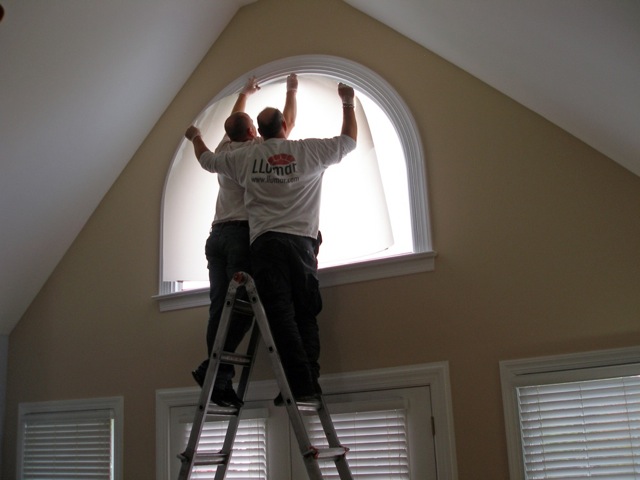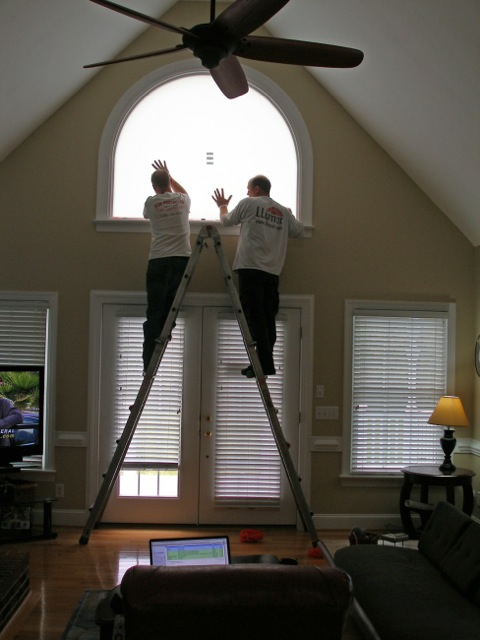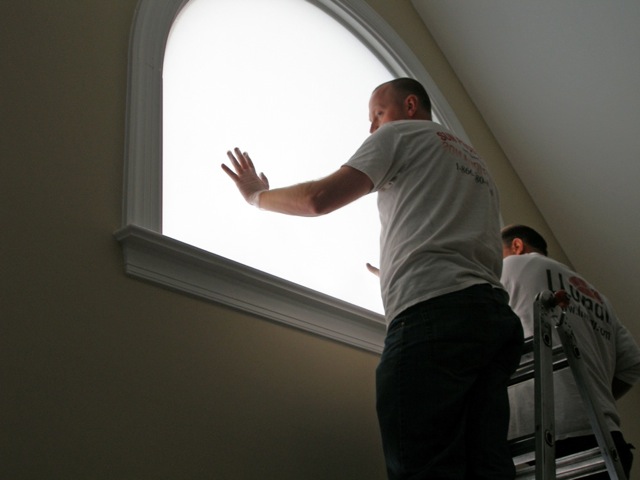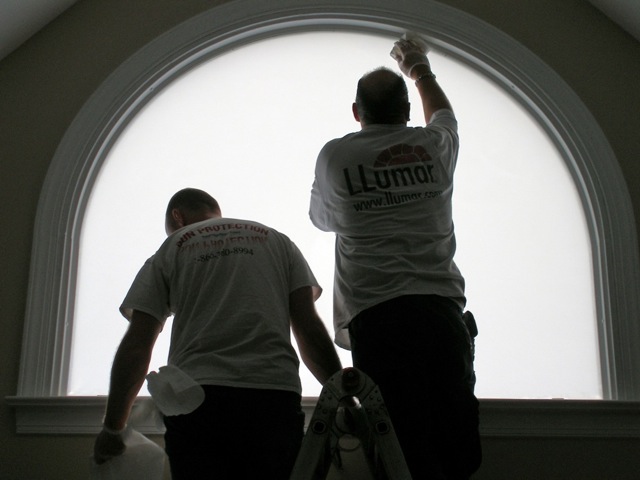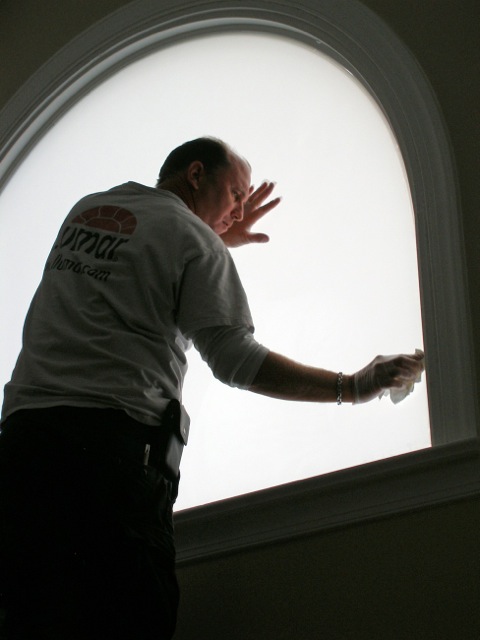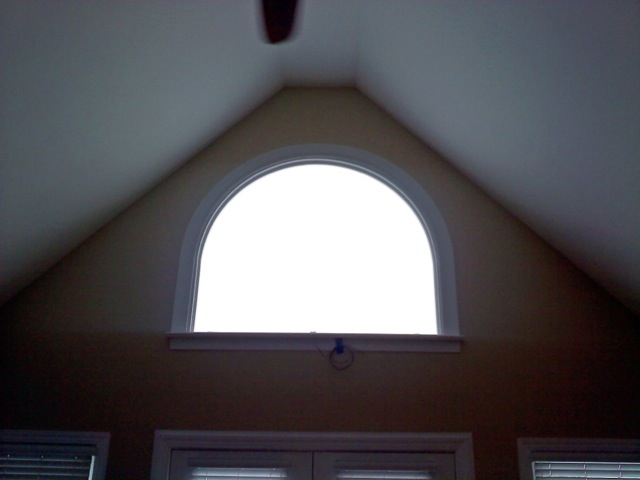 The installation video below is a mechanical non-adhesive install demo
*****************************************************************************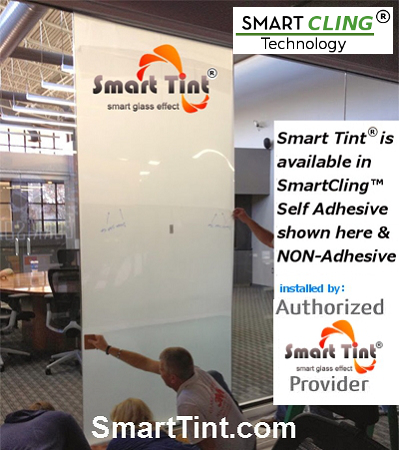 Control your Smart Tint with our network device from any smart phone or web browser !


SmartTint

®
Film can be Wi-Fi enabled instantly switching windows from opaque to clear in less than a second. You can turn
SmartTint

®
Film "on" for see-through windows and "off" for private opaque windows from any smart phone or internet web browser with no software required using our hardware network device. Great for controlling the temperature of your summer home via sunlight or setting a room's privacy instantly.
SmartTint

®
is easy to install and affordable, and doubles as a projection screen , digital blind , uv blocker , temperature control , privacy shield, limitless applications.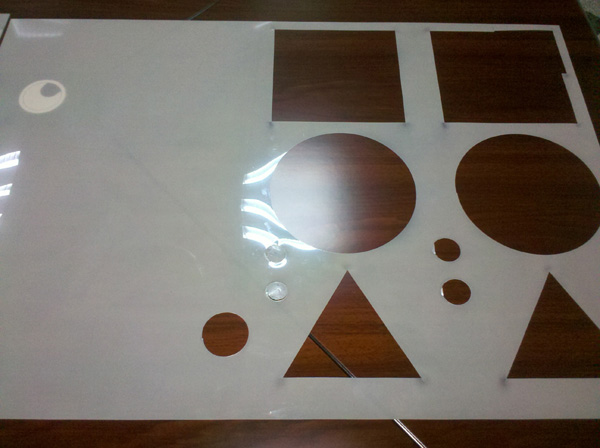 Smart Tint, is available in 7 colors .
We offer the standard

FROSTED PRIVATE WHITE

, Grey , Black,

PINK(Salmon)

,

BLUE

,

GREEN,

YELLOW

!